Name: Alice Lee
Tel: 0086-0769-22311951
Fax: 0086-0769-22311951
Mobile: +86-18929213917
E-mail: info@sammipack.com
Add: No.80,Hongfu Road,Nanchen District, Dongguang City,Guangdong Province,China

Product name : Automatic aulminium foil induction sealer

Item : GLF-1800
Details:
High Quality GLF-1800 Automatic Induction Sealer Aluminum Foil Sealing Machine
Machine description
This electromagnetic induction sealing technology is the advance sealing which was recognized
by modern international. It,s the most advance technology for medical,food, oil,cosmetic,
chemical,pesticide bottle sealing at present.It adopt several newest development technology, the technology
stand advance in the industry. The Core spare part adopt international famous brand. Product will be check
seriously before leaving from factory. Quanlity is reliable,it,s the best choice product for customer.
Suitable for sealing small-caliber plastic and glass bottles with threaded flat caps. It is not suitable for metal, threadless caps, high caps with voids, Suitable for continuous sealing operation in large batch production. Ideal sealing equipment in medicine, pesticide, food, cosmetics, lubricant and other industries. Suitable for medical bottles, health products, plastic bottles, aluminum foil, aluminum foil film.
Feature:
1.The power of switching power supply can be manually adjusted, with digital display thermometer.
2.The performance of advanced AC speed regulating motor is reliable and the transmission is stable.
3.Automatic aluminium foil sealing machine has a closed-loop stepless speed change system,
4. With intelligent induction switch, which can intelligently convey products,
5. Fully automatic detection and diagnosis, all-air cooling and heat dissipation.
6.Sealing speed is fast, it is suitable for large scale production.
7.Stainless steel shell in appearance, it,s beauty and generous;
8.Easy to operate, good sealing quality, continue working.
Machine specification :
| | |
| --- | --- |
| Diameter of bottle mouth | 50-120mm |
| Height of bottle | 40-300mm |
| Voltage | AC220V±10% 50HZ |
| Power | 1300W |
| Currency | ≤8A |
| Sealing Speed | 0-15M/minute |
| Dimension of machine | 930*540*440mm |
| Dimension of the package | 1150*480*400mm |
| Gross weight | 45 kg |
| Material | Stainless steel |
Work principle
The machine operates on the principle of electromagnetic induction: The aluminum foil on the bottle top is highly
heated instantaneously and melted so that the bottle mouth is closely wrapped and sealed.
Operating instruction
1, Put the induction sealer on the table,plug in the machine. Must pay attention not to put the sealing head(handle head) on the machine.
2, Turn on the machine,the power light flashes red.
3, Put sealing head smoothly on the bottle cap, press the button on the handle, power light flashes red and hear a bee sound.
( Note: the button on the handle work once at a time, it can not keep pressing on button, or it will work continuously without stop.)
4, Power light went out, bee sound stop, it means the sealing is finished.
5, Rotate the heating time button,the sealing time can be adjustable. Bottle neck diameter 20mm ,
Heating time adjust to 1.5; Bottle neck diamter 50mm,Heating time adjust to 2(Note: for the thickness difference of bottle cap , heating time should be lengthen in accordance with thickness of bottle cap)
Note:when sealing, the sealing bottle mouth must be put in the middle of the induction head to ensure the sealing
quanlity.
The material of bottle and aluminium foil should be the same and tighten the foil inside the cap with bottle mouth.
Sealing samples: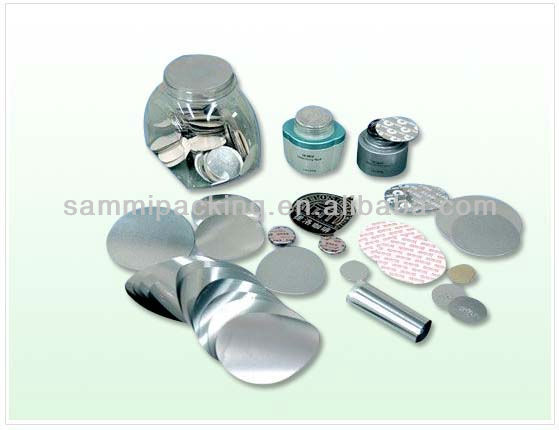 Machine details: