Name: Alice Lee
Tel: 0086-0769-22311951
Fax: 0086-0769-22311951
Mobile: +86-18929213917
E-mail: info@sammipack.com
Add: No.80,Hongfu Road,Nanchen District, Dongguang City,Guangdong Province,China

Product name : Automatic date code inkjet printer

Item : A180F
Details:
Features
It's installed with National library, Grade 1 & Grade 2 (over 6000 characters), PinYin Input method.
The mainframe is equipped with 4 fonts library ( SongTi, HeiTi, KongxinTi, Dot Matrix   font). When editting, these 4 fonts can be mixed for layout at the same time. If other fonts are needed, it can be transfered via computer.

The editting interface of the mainframe can be switched from Chinese to English, or from English to Chinese at any time, which makes it to meet requirements in overseas market.
The 4-lines printer can print 1-15 lines of English and numbers or 1-8 lines of Chinese characters,Can print large or small characters,One printer can perform Two functions!Two in one!
Status display: indicator light of sensor, encoder and printing indicator lamp
Forced ink jet function, no blocking of spray heads during long period of no usage
The user can input symbols and texts of any length, which is not limited by the ratio of length & width and length requriement.
This printer can be used independently without computer connection, User friendly design and easy to operation.
There is USB interface and can be connected with computer to transfer symbols and logo

one recognizer one ink cartridge, when changing the ink cartridge, meanwhile need changing recognizer

.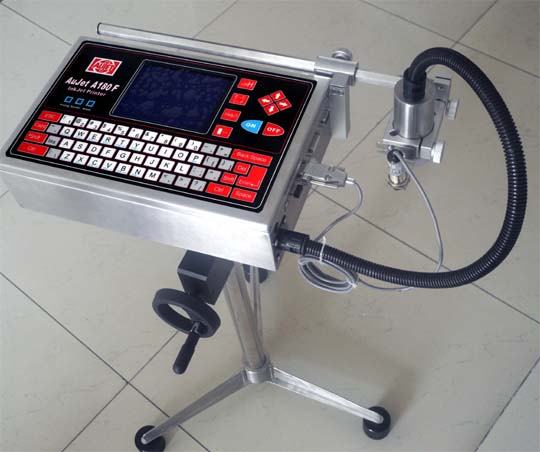 General Ink Jet Printer (Clicking for more Prictures)
Technical Data
Printing Resolution DPI: 200 DPI
Printing Fonts:High-definition printing font (Print Font).
It's installed with National Chinese library, Grade 1 & Grade 2 (over 6000 characters).The mainframe is equipped with 4 fonts library ( SongTi, HeiTi, KongxinTi, Dot Matrix font). When editting, these 4 fonts can be mixed for layout at the same time. If other fonts are needed, it can be transfered via computer.
Printing Symbols: It can print various trademarks, logos,graphics, texts, numbers, and special signs,that are not limited by the ratio of length & width and length requriement.
Height of Character:Print height range is 1mm~18mm(1,2,3,4,5,6,7,8,10,12,15,18mm)
Printing Distance: The distance between the spray head and printing objects should be 5-10mm
Automatic Printing: Date, time, lot No, Shift No, Sequence No. etc.
Message Memory: Save up to 100 messages and 100 symbols
Texts Length:Max. 200 characters per message
Sequence No: 1-9 variable numbers
Printing Speed: Maximum 35 meters /minute and the speed isn't influenced when printing more lines.
Colors of Ink Cartridges:Black, Red, White ,Blue
Printing Direction: Sprayhead can be rotated 180° to forward, reverse, vertical downward.
Printing material: Metal, plastic, wood, aluminum film, carton or building material surface ect.
Applicable products:Display screen of mobile phone, drink lids, food package bags, medicine package, steel-plastic door & window, aluminum alloy, battery, plastic tube, steel plate, PCB, chip, woven bag, egg, brake, housing for mobile phone, carton etc.
Ink Cartridge:Solvant based environmentally friendly ink cartridge or oil based ink cartridge.No need to use gas source or dilution.
Main Interface:USB, encoder,sensor, cables
Packaging size: 58x28x44cm ;G.W: 14KG
Adjustable standard for mainframe Can be adjusted 50-75 CM up or down. Can lean forward or backward slightly
Auto voltage selection:AC 110- 240V
Energy Consumption:Average lower than 100W
Operation Temperature:1℃-37℃;Humidity 30% - 70%
Status display: printing indicator lamp, encoder and indicator light of sensor