Name: Alice Lee
Tel: 0086-0769-22311951
Fax: 0086-0769-22311951
Mobile: +86-18929213917
E-mail: info@sammipack.com
Add: No.80,Hongfu Road,Nanchen District, Dongguang City,Guangdong Province,China

Product name : Desktop vacuum sealer

Item : DZ-260
Details:
Detailed Product Description:
1. DZ-260 vacuum packaging machine is suitable for packing objects in small size,
as well as materials such as money, financial documents, vouchers etc.
2. This package is set with the function of combing vacuum, sealing, peinting in one process and, for different packing materials and requirements, with the adjustable devices for the vacuum, hot-sealing temperature and time so as for the users to get optimum selection and adjustment for an optimum effect of packing
Technical paramters:
| | |
| --- | --- |
| Model: | DZ-260 |
| Vacuum chamber size: | 280*385*50 mm |
| Lowest vacuum chamber Pressure: | 1.32 Kpa |
| Heat-sealing size: | 260 mm |
| Power source: | 110V/220V,650w |
| Dimension: | 500*340*380 mm |
| Weight: | 36 kg |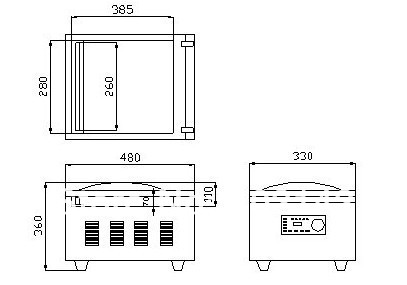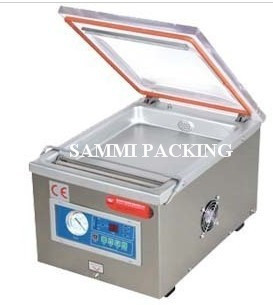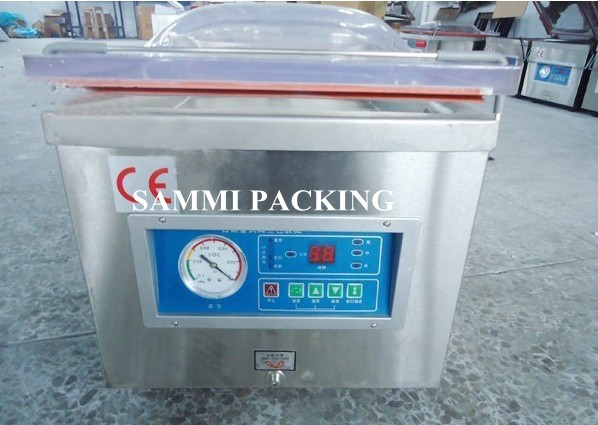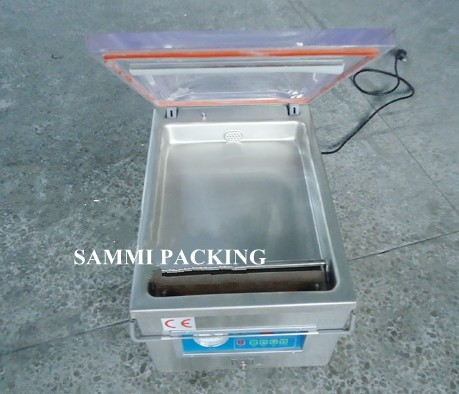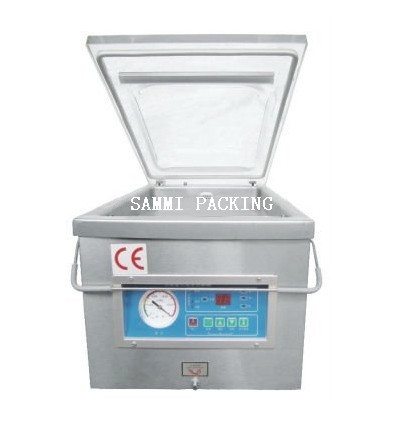 1. This vacuum packing machine have passed CE and ISO9001:2000 approved.
2.Control System: Computer Control Panel, there are many control manner for customers selecting
3.Vacuum Pump: strict quality examination systom insured the heat of vacuum packaing machine runned smoothly, (Different brand and exhaust ports of vacuum pump could be configured according to customers specifications)
4.Machine Lid Gemel: Special designed gemel device of machine lid which could reduce the working intensity dramatically in daily working life
5.Main structure's material: Main structure's material of vacuum packaging machine is 304 stainless steel, which insures the beautiful appearance and antisepticise under serious cauterization circumstance
6."V" type lid gasket: The "V" type lid gasket is made from high density material which prolong the using life and wearable in the daily usage, it's also reduced the replacement time and production cost
7.Heavy moving wheel (with brake): The heavy moving wheel with high bearing capability, which makes customer moving easily
Vacuum food packing machine is featured by automatic processing of vacuuming, sealing, printing, cooling, which is used in vacuum packaging food, pharmaceutical, aquatic, chemical and electric industries.
·It can prevent the products from oxidization and mildew, as well as corrosion and moisture, keeping the quality and freshness and prolonging the storage time
What kind of products can I vacuum seal?
Vacuum sealers can be used to vacuum package most kinds of foods as well as household items. However, there are certain guidelines that should be followed to maximize the capabilities of your vacuum sealer:
Vegetables should not be vacuum sealed fresh. It is best to blanch them (place in boiling water until the are hot, yet still crunchy), then submerge in ice water to stop the cooking process. This will allow the vegetables to retain their color and firmness. You may then continue with the vacuum sealing. You can also freeze the fresh vegetables and then continue the vacuum sealing process. If this is not followed, they will emit a gas after they have been vacuum sealed that will interfere with the vacuum seal of the bag.
Any food, such as meat or fish, that is very moist, is best vacuum sealed after it has been frozen. The excess moisture in the food will interfere with the sealing phase. Likewise, more delicate foods, such as bread or fruit, which are likely to be compressed under the pressure of vacuum sealing should also be frozen first to help the product hold its shape.