Name: Alice Lee
Tel: 0086-0769-22311951
Fax: 0086-0769-22311951
Mobile: +86-18929213917
E-mail: info@sammipack.com
Add: No.80,Hongfu Road,Nanchen District, Dongguang City,Guangdong Province,China

Product name : High quality hand held inkjet printer

Item : AU-168
Details:
Features
Color touch screen, what you see is what you get.
Equipped with one lithium batteries .
This printer can be operated independently without connection of computer. It integrates the humanity image design with foolproof operation.
The printer has a unique subsection function. Namely, one message can be printed by multiple rows, which solves the problem of the maximum printing height of reaching 18mm for every row.
It can print 1-15 lines of English and numbers &1- 8 lines of Chinese characters. It can print big or small characters,one printer can perform two functions! One as two!
Automatic energy saving function ( The screen will automatically turn off after 10 seconds). After charging the battery, it can be used for 8 hours. And the battery can be directly charged while printing( without stopping the printing). Or it can be charged separately after stopping printing. The standby time can reach as long as 20 hours.
The user can input symbols and texts of any length, which is not limited by the ratio of length & width requriement.
There is USB interface and can be connected with computer to transfer symbols and logos.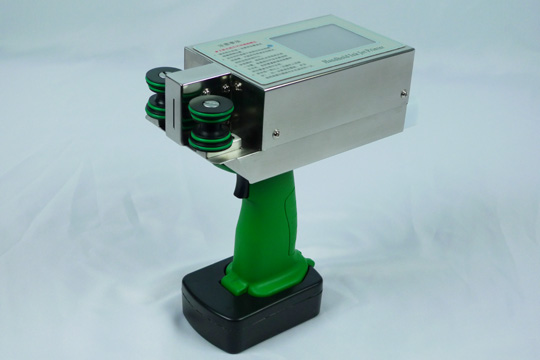 Parameter
Print Resolution: 200 DPI
Print Fonts: High Resolution Printing Fonts
Languages :English and National Chinese library Grade 1 & Grade 2, PingYing Input Method.
Printing symbols:Can print logos & pictures, the length unlimited.
Printing lines: up to 15 lines
Printing character height:from 1mm to18mm
Automatic Printing:Date, Time, Lot No, Shift No, Serial No. ect
Message Memory:can save huge amounts of information
Text Length:Max. 200 characters per message
Serial No:1-9 variable sequential numbers.
Ink colors:Black, Red, White.
Printing direction :Could print at any angles .
Printing material: porous and non-porous materials.
Applicable products:Beverage, Food, Pharmaceuticals, Cosmetics, Plastic Pipes, Steel, Aluminum Alloy, Batteries, Electrics, Chemicals, Tobacco, Timer etc. ?
Ink Cartridge:Solvent-based or oil-based environmentally friendly ink cartridge. No need to use air source or Pump.
Interface:USB
Machine Weight:1.3kg
Rated Power :DC 14.8V Li-thum battery could stand by 20 hours.
Power:Average lower than 15W
Operation Temperature:1℃ – 37℃ ;30% - 70% Humidity